I am joining in a fun little post of capturing a photo of something that gives me joy or makes me smile... courtesy of Rebecca over at
Simple As That
blog.
This capture was taken this week off my back deck right as the sun was setting. It is untouched or edited and simply took my breath away when I saw it! I hope you enjoy and find things that make you smile this week!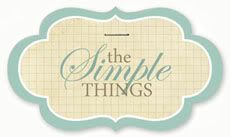 .................................................
Other things
that made me smile this week.
We gave Eli his first at home haircut. Justin helped me get the right size clippers and buzzed the lower half...and I scissor cut the top. The group effort paid off and no more $14 haircuts... He looks so dashing, right?
There is something so therapeutic about the outdoors...which is why we take advantage of our sweet little home town. We are blessed to be able to question, "which lake do you want to visit today?"..(there are five decent sized ones to choose from plus one little pond if we wanted and all relatively close....You can say it...
LUCKY!
)
Picnic time. Don't you love the picnic basket? That was a wedding gift( five years ago in September) and we have used it A LOT.
There is always a car/truck in his hands. I want to enjoy things the way a child does...to see and appreciate the small things in life.
This $10 tricycle that I bought for Eli this past summer at a garage sale has been worth every penny.
♥♥♥
Boyfriend and Girlfriend ♥
Sometimes when I am behind the lens I feel like I am not "in the moment" or I miss out on the special things because I am busy adjusting the camera or trying to capture it. I've been doing better at only picking it up when I am not apart of that particular moment and just trying to be "present". This past week I have really prayed about my inner self. Two big things I am working on.
1)Be more humble...less prideful and "know it allish" (I've hurt some relationships this past week and I want to remedy that)
2)Getting myself out without worrying that everything is in its place before I leave.
I will admit, sometimes I am tormented to go anywhere because my hair is not in every perfect place or every bed isn't made. Today, I woke up 30 minutes before I had to leave for church...I thought I will just catch the later one...but something really made me want to just try and get it together so we could go to the early one. I prayed that somehow God would allow me to get ready and get us there on time...and that He would help Eli do better in the nursery.
Guess what?! Prayers were answered. Hallelujah. We were on time..dressed super cute..every hair in place...breakfast and house in order (all in 30 mins!)...and Eli stayed in the nursery the whole time while I got to enjoy my first whole service without him! (Hey, it may seem little but it's huge to us!)
What are some of your personal growth goals this week?