Trips to the park, lake and walks in nature as often as we could.
Strengthened my friendships with my girlfriend's Priscilla and Ashley...(Ashley welcomed her second baby January 20th--Sophia Marie)
Made more consistent efforts to get to church and bring prayer into our everyday♥
Celebrated a year and a half with our pride and joy Eli ( only 5 more months now til he's two!)
(If you're interested in joining A Month in Photos just click the button below for more info...Come on, you know you want to!)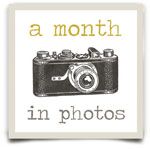 Farewell January....Hello February!