Enjoying the Simple Things...
Yesterday, we went to Costco (for us Costco is an event in itself...we get excited for our bimonthly trip like it's a trip to an amusement park or something). But I mean with all those free samples...seriously, who wouldn't get excited?!?!
We used to stand in the line that wrapped around the corner for a $1.50 meal (drink included! Whoop whoop!), but then we discovered
Saturdays
at Costco.
You can feed yourself on the free samples there are so many...and since we pretty much empty our wallets when we go...we feel like that's a pretty good consolation.
And I don't know about you, but Costco makes me feel like I need everything..."honey, the Jack Lelaine Juicer is only $xx.xx!" "Oooh, an outdoor living set!"
Or all of a sudden I feel like I could eat 42 assorted muffins all to myself.
And
don't
even enter the camping isle with your husband. The cart filled up rather quick with a camping stove, camping chair and tent...so, I know how our summer is gonna look!
Then on the way out, Eli spotted this rather adorable Retriever/Lab Mix who was incredibly well behaved and gentle. I had the cutest video but apparently it had an error and never recorded.
It was Eli wrapping his arms around the pup and whispering sweet sentiments into his soft floppy ears...
and then mimmicking the dog, getting on all fours and attempting to drink out of his doggy bowl...
Pretty.Stinking.Cute.
The tent that Costco made us buy.
Eli and I took a nap after our exhausting shopping trip....and when we woke up, we found the living room removed to make room for my husband's purchase.
He's very enthusiastic about camping, can ya tell?!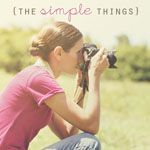 Simple Things Sunday is about finding that simplistic thing that brought a smile...did you have some of those this week?