Okay, so these aren't flattering pics at all!
But my simple thing this week was cuddling a sick baby, trying to keep us busy in the house since he has been too sick to go anywhere
(and it snowed...double cabin fever),
and letting him play with my phone. I reversed the camera on my phone so he could see the faces we were making. We have our silly mommy/son moments that most people never see...so this is me sharing. It would be a great idea to send these to anyone having a bad day...they are sure to bring a laugh!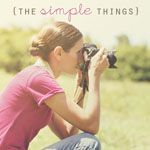 Check out Simple As That's The Simple Things link up..very fun!