There are so many positives (and
some
negatives) to living in a mountainous community...
But I don't think many people would argue with this one...
the beauty of nature.
Just being able to walk out our front door, hear birds and animals waking up...see the light filter softly between all different varieties of trees, and the only distraction being our voices engaged in conversation.
No humming of cars...just bees and hummingbirds.
No thick pollution spoiling a beautiful day.
No buildings or skyscrapers.
Just nature. Pure. Simple.Nature.
Our outing as a family yesterday.
We walked from our house to the lake (about two miles)
which has about a dozen apple trees growing right on its shores. Eli gathered sticks, rocks and ran from hillside to hillside chasing our pup, Jerry, til his legs gave out.
A beautiful, perfect afternoon.
Linking up with Simple As That for the Simple Things.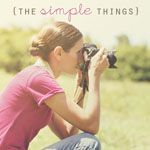 Check out my photo blog, Life's Blissful Moments for some of my gorgeous spring shots and shots of the apple blossoms
http://www.lifesblissfulmoments.blogspot.com