My simple joy this week was my little boy bringing a beautiful poppy and smooth red stone to me.
He placed it in my hand with the cutest sideways smile with his eyes looking off to one side, so proud of himself for finding it and giving it to me.
He had no idea what that did to my heart...
or that he placed a keepsake in my hand for me to cherish always.
The mom who finds sentiment in absolutely everything, had yet another thing to bring tears to her eyes...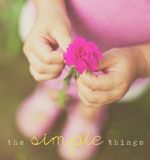 Linking up with Simple As That for The Simple Things...
about finding life's simple joys and sharing them....