There's just something about a little boy's eyes. They are so full of wonder and curiosity...and light.
I know most parents can agree to that feeling that their child gives.
It brings contentment to watch them; the heart overflows.
And there's just something about Grandma & Grandpa's that evokes a child's sense of wonder and excitement for life all the more.

Maybe it's the fishing at sundown in grandpa's lap...not knowing that "that long poley thingy" is gonna have a surprise at the end of it.
Watching my son catch his first fish made my heart overflow...
again.
Or perhaps it's playing in the sprinklers to rinse off a sticky treat...
Or maybe it's stickers stuck all over a cute face and pretending to be puppies afterwards?
Yep, that might be it.
Time at Grandma & Grandpa's is like a mini vacation for him (and me)....
There's only a couple people in the world that would share that same awe and excitement for my growing boy the way I do...
I think we can include Grandma & Grandpa in that.
He loves snuggling in their lap watching movies, going on bike rides at sunset with them and exploring every nook and cranny of their house.
I love watching memories emerge.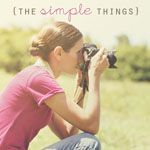 Simple Things Sunday is a link up about finding that simple thing that made you smile...I linked up, will you?